Cabex has been a specialist in renovation and home improvement since 2003. Do you fancy something new, or are you planning a renovation project? Call on the local reference manufacturer for PVC panelling.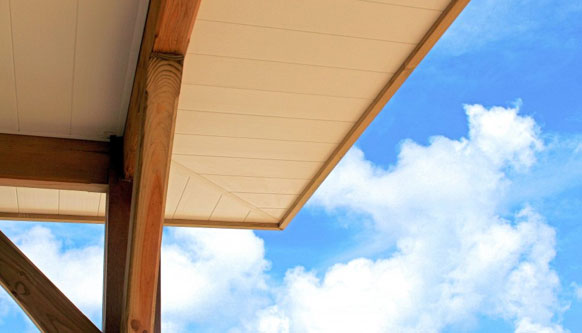 Benefits
The PVC suspended ceiling provides good thermal insulation. In addition to benefiting from an anti-UV treatment that prevents yellowing caused by the sun, it is resistant to Sargassum seaweed gas. The result is a suspended ceiling in panelling that is easy to clean and does not degrade over time.
What is PVC panelling?
It consists of PVC panels called panelling. Easy to install, they cover your ceilings and suspended ceilings. These panels are manufactured in Martinique and Guadeloupe, thus boosting the local economy and facilitating reactivity.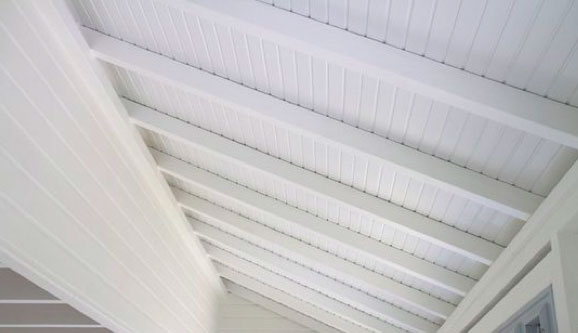 Range
PVC panels are available in several sizes depending on the nature of your projects. Two widths are available: 13 or 26 cm. These PVC panels, with a grooved or smooth appearance, offer a wide choice of designs. 7 references are available, from standard to reinforced in order to best suit your needs.
Accessories
Cabex also offers a wide choice of joining accessories (U, corners, angles, moulding…) to finalise the installation and give an aesthetic, professional look to your work. You're sure to find the part you need to carry out your projects the way you imagined them.
For what use?
Cabex PVC panelling can be installed both on exposed roofing framework and suspended ceilings. Its rack stacking allows for easy transportation. You can also arrange them on an interior wall for decoration. The PVC panels are easily attached to ceilings and walls. An additional plus: These panels are recyclable.
Are you hesitating?
Discover all the advantages and accessories presented by Cabex PVC paneling.

Why PVC false ceiling paneling ?
PVC paneling, the ideal solution
Few ceilings can be left uncoated, either because they need to be protected or because they are not aesthetic enough.
PVC paneling is a very practical answer. Particularly resistant and easy to maintain, PVC is a light material, easy to work with and to install, which offers excellent resistance over time. It lends itself perfectly to installation indoors, in damp rooms (bathrooms and kitchens) and outdoors on sheltered terraces.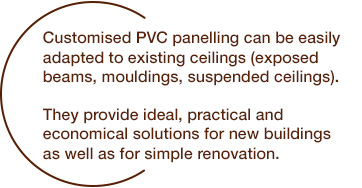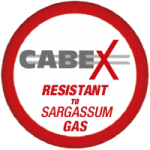 M1 traffic light classification
I accept the legal notice and the privacy policy
They are codified at national and European level in a very regulated manner. Reaction to fire is the representation of a material as a source of fire (combustibility, flammability), defined by classification M.
This classification is established by laboratories approved by the Ministry of the Interior, including CSTB (today it is placed under the supervision of the Ministry of Ecology, Sustainable Development and the Sea.). It corresponds to the resistance time of a material at a given temperature.
The M1 classification corresponds to non-flammable fuels such as PVC, composite materials, mineral tiles for false ceilings, polyester, cotton, fireproof wood.
Our class M1 PVC panels therefore have a very good level of safety so they can be used with confidence.
Resistant and easy to maintain, PVC paneling is a good choice in the long term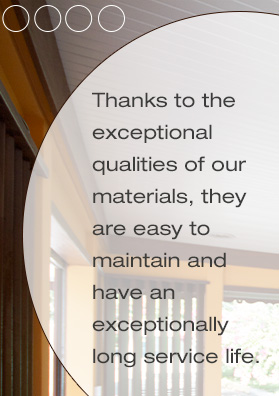 Washing
A little fresh water is enough to clean your PVC ceilings, they stay crisp and clean for a long time.

Water
Rot-proof and waterproof, PVC is suitable for damp rooms. Our PVC panels keep their shape, color and quality throughout their life.

Colors
The PVC is dyed in the mass, the colors are unalterable, resistant to both light (UV) and humidity
Weather tropical
Our PVC paneling ceilings are designed to withstand local temperatures and ambient humidity levels throughout the seasons, both indoors and outdoors.

No additional painting costs
No more painting chores and chemical pest treatments. CABEX ceilings save you any maintenance worries, regular washing is enough.
Install your paneling with ease!




2 choice of installation (screwing) :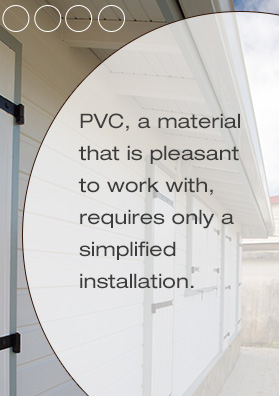 Decorative ideas with PVC paneling